It's Wednesday! Time for your weekly peek into my diet. 🙂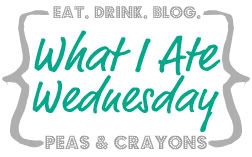 Breakfast
Egg white omelet with light cheddar cheese
Yes I know this is clearly a regular egg omelet. I forgot to take a picture of mine before eating it, so I took a picture of John's instead. Close enough right? Right.
Second Breakfast
What? Two breakfasts?! It was a weird day. We went for our long run kind of late and I was super hungry when we got back, so I had a Banana Pineapple Smoothie without the oats.
I need a manicure…
Lunch
For lunch I did an improvised version of this recipe – two hard boiled eggs (but only one of the yolks), wholly guacamole, tomato, lemon juice, salt, and pepper. So simple but so good.
Snacks
As you know, I snack a lot throughout the day. One of my favorite KIND bars, so good.
Plus the standard Zbar.
And some pistachios, my fav super healthy nut!
Dinner
For dinner, I made us some veggie burgers from a recipe I've been meaning to try for ages. These Roasted Red Pepper Burgers come from how sweet it is. Pretty quick to make if you have quinoa already made, and they were sooooo good.
We wanted dessert but were too lazy to leave the house, which was probably for the best. 🙂