That's right friends, I finally got my life together enough for a real WIAW! Not that taking pictures of your food is hard… #bloggerproblems.
As an added bonus, I have a recipe super basic but helpful tip for making falafel, one of my favs.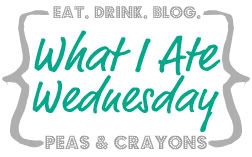 As always WIAW is hosted by the lovely Jenn at 
Peas and Crayons
.
Breakfast
Half an avocado, salsa, and egg white. Happily, real avocados (as opposed to just Wholly Guacamole 100 calorie packs) have made their way back into my life thanks to the avo-saver. I'll have a review up soon.
My egg white looks like a tortilla… I promise it's actually eggs!
Lunch
Now that I'm enjoying my post-internship/pre-school staycation, my "lunches" look a lot more like snacks and are spread out over several hours. So here is a collection of the things I ate between the hours of 11 and 2:
Photography fail. John often accuses me of eating like a child. On days like yesterday, it's hard to argue.  In my world, this counts as a meal.
Snacks
For snack/second lunch I enjoyed some carrots with my latest addiction: edamame hummus!
I had edamame hummus for the first time over a year ago and fell in love. Since then, I've searched my grocery store for it in vain, and finally gave up looking. Then, last week, I was grabbing my Sabra regular when I stumbled on this cheery green package of heaven! I may have actually jumped in the air and squealed with delight (additional evidence of child like behavior). Then this week, there was a lovely Eat Well brand rep sharing all sorts of fun flavors including white bean, black bean, and some spicy concoction. He gave me three coupons! Probably because I was creeping him out with my enthusiasm…
I've also been ploughing through strawberries. I can't get enough, they've all been so juicy and sweet lately. I eat about half a container in a sitting.
Dinner
Falafel is one of my favorite foods. I rarely have it at home because it's just a billion times better at any Mediterranean restaurant. Or even Pita Pit.
Sometimes I'll buy a mix to make it at home, but then I have another dilemma. I can't get the deliciously crispy outside without frying it, and frying it is unhealthy. Even worse, frying it means I have to waste a bunch of oil, figure out how to throw it away, and while cooking, avoid those oil eruption that launch lava droplets onto your skin. No thanks.
So, here is my solution, adapted from the box. This is not fancy. It is designed for super lazy peeps like me.
Prepare mix as instructed, then form 1″ balls.
Bake them for 10 minutes at 350 degrees. Next, spray them with oil and broil for 3-5 minutes. Roll to the other side, spray with oil, and broil for another 3 minutes.
This gives you a bit of the crispy, crunchy shell you get from frying, without as much oil or as much hassle. Serve with hummus and tzatziki.
We had some edamame on the side because it was leftover from some salads and I needed to use it.
Dessert
Oh yeah, and this happened.
Not the whole container! But yeah, not the healthiest choice I've made all week. I've just been craving cookie dough! I like to think I'm balancing it out with all the strawberries.
Have you tried edamame hummus? Do you make falafel at home? If so, please share tips!