As you may know, I'm drinking all the smoothies lately.
It was my go-to breakfast this summer, then the weather got cold and I took a break for a while, but they are back in my life in full force.
One of my good friends asked me recently about smoothie recipes, so I thought I'd put together a post with my personal smoothie formula. 🙂
Now, by perfect, I mean perfect for me. Obviously, everyone has their own specific tastes and preferences. But after a few years of messing around on my own (without bothering to do anything helpful like look up recipes to try…), I found that this formula works for me.
There are two basic rules I follow for smoothies: 1) always use banana, and 2) never use yogurt.
Bananas are the key to make a smoothie creamy and frothy. Without it, you end up with something like juice or something like a slushy. The no yogurt rule is definitely a personal preference. I used to always use yogurt, but I felt like my smoothie coated my throat and I hated that. I finally realized the yogurt was to blame, so now I never use it.
THE FORMULA
Banana – Usually one half. A whole banana will make it even frothier but for me that's a little much. I save the second half for a snack with peanut butter later in the morning. In the summer, I cut up banana and keep it in the freezer. Using frozen banana gives the smoothie a milkshake consistency which is divine.
Other fruit – Preferably frozen. For me, this is usually berries, but sometime I use pineapple or something else creative. Between the banana and the other fruit, my individual smoothie cup is about 3/4 full. This is what really dictates the flavor of your smoothie.
Liquid – I always use unsweetened original almond milk, but you can use whatever you like. I fill the cup to just above the fruit. About 1 cup.
Protein (optional) – I usually add protein powder and the amount depends on the flavor and on what else is in the smoothie. Lately I've been using vanilla protein powder. I find vanilla a little overpowering so I only use about a third of a scoop. If it's right after a workout I might bump it up to a full scoop.
Extras (optional) – Extras add nutritional or other value to your smoothie without changing the flavor. This can be lots of things. My baby blender doesn't handle greens very well but I still add them from time to time. Chia seeds make it extra filling. Oats are another favorite of mine. Sometimes I'll add 1/4 cup of old fashioned oats again to make it extra filling.
Looking for more fit tips? Head over to visit Lisa at TSOH for more Fit Tip Tuesday posts!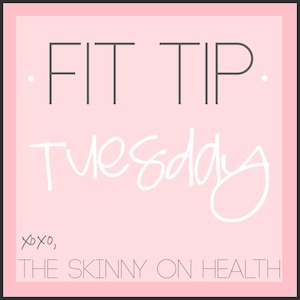 Questions: What do you put in your smoothies? What other fit tips would you like to see?