This week, I'm excited to be joining a new link-up hosted by Lisa at The Skinny on Health: Fit Tip Tuesday! The timing is perfect, because A) I've been meaning to write this post for a while, B) someone kind of asked me about this topic yesterday, and C) it just so happens to be an unconventional fit tip!
One of the questions I get asked most often – as a blogger, by family and friends, and in interviews – is how I manage to juggle so many things without epicly failing at all of them (i.e. law school, teaching, blogging, fitness, and everyday life). My answer is always the same: time management. Honestly, I feel like I could write a book on this topic, but instead I'll settle for some blog posts, starting with this one!
I attribute my own time management skills to college, specifically, to pledging my sorority. It was an enormous commitment on top of an enormous course load as a science double major, so I just had to figure it out. Sink or swim. Luckily, I swam. I never really let up after that, and I've developed a mini arsenal of tools to make it work. Today I want to talk about the most basic of those skills: calendaring.
Now stop, before you run away screaming and just hear me out! Calendaring/scheduling can address not one, but two major barriers to a regular fitness program: lack of time and accountability. Note: I know it isn't for everyone and can be an anxiety trigger for some, if that's you, please ignore me 🙂
As you can probably tell from that little graphic, I block out my entire day in Google calendar. Google calendar is the best in my opinion, but any program will work. If you don't have a calendar you use already, great news, I can almost guarantee you have one with your email account! It will sync to your phone and any other device and be with you wherever you go. Most likely though, you have one that you use for true appointments and not much else. If that's the case, you're missing out on its full potential!
When I say I schedule everything, I mean everything, and I do it for a reason. I block out time to get ready in the morning, I leave gaps for travel, I block time to make dinner, read blogs, do work for school, literally, everything. Despite the high level of detail, making my calendar only takes a couple minutes, and it easily saves me hours each week by keeping me on track.
I want to be clear that calendaring is NOT about being rigid. The goal is to keep yourself on track, not lock you into fixed regimen. I still rearrange my calendar constantly, sometimes several times per day. If something takes longer than I expect, I just adjust.
The benefit of calendaring is that it forces you to be realistic about how long certain things will take. I treat it like a visual to-do list. A regular to-do list doesn't account for how long certain things will take, which for me leads to procrastination. But it's much harder to say to yourself "I can finish this later" when you can look ahead and see that you really can't. If you ever have that feeling that your day "gets away from you" or you are frequently surprised when you run out of time in the day, I promise this can help. As an added bonus, it helps you see how much time you really have in your day, and I bet it is more than you think. That's where the FitTip part comes in.
One of the biggest barriers to exercise is a perceived lack of time. While I'm not denying that some people truly have no time, most people can regain enough time for a short workout with better time management. So, even if you don't schedule anything else, at least try to schedule your workouts. If you write down your workout on your calendar or in your planner, and you treat it like a meeting with yourself, it's more likely to happen. Again, you can move them if you need to, but scheduling it creates an added accountability with yourself.
For me, scheduling workouts forces me to think about when they can actually happen. If I don't work out in the morning, sometimes I can't workout at night. If I know that, I'm much less likely to skip the morning because I know it's my only shot for the day.
I feel like I have a million more calendar tips I want to share, but I just scrolled up and saw how long this post is getting (I told you I could write a book), so I'm going to wrap this up. However, if you have ANY questions about how you can effectively use your calendar to get more time out of your day, please reach out.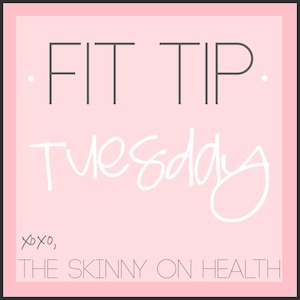 Looking for even more Fit Tips? Make sure you head over to TSOH to see what my genius blog friends are sharing <3
Questions: Do you use a detailed calendar? Would you like to see more posts on time management? Be honest, did you read over my calendar graphic for a sneak peak into my life? (I know I would!)