How is it already Wednesday? And February for that matter? The weeks are flying by, and the year for that matter. It's funny because part of me wants to fly into spring, graduate, move, and get started on the next phase of my life, but I never like when time is passing too quickly – I don't want to miss out.
No matter how quickly it gets here, Wednesday means it's time to talk food! Thanks so much to Jenn for hosting our What I Ate Wednesday party. 🙂 I'm a little sad to admit that I don't have much exciting food to share. I already shared some of my eats on Monday, so here are the leftovers.
My tofu scramble adventures continued. It's good, it's just still not great yet. At this point, I'm just being stubborn because I'm determined to make it blog worthy.
Last week, I made this this quinoa dish, and I loved it so much I recreated it as a salad!
For a light lunch one day I was inspired by Anastasia to have toast and avocado. She was healthier using tomato, which I replaced with cheese. 🙂
For dinner one night, John and I had this super easy avocado pasta dish.
Soooooo good, and it only took like 20 minutes and one dish. Winning.
At my weekly lunch date with one of my law school friends we were good and got big salads (Seinfeld anyone?).
All the chopping means it isn't very pretty, but it was very delicious.
Don't let all those salads fool you though. John and I finally had the ice cream bar we planned for the Super Bowl!
Annnnnnd we'll be having it all week. That's just how we roll. Don't judge. <3 Between the ice cream, salads, and avocados, I feel like it's a clear sign that I'm craving summer. Sadly we still have a ways to go even with time flying by.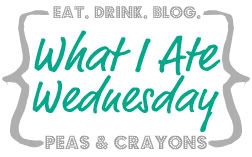 Questions: Are you craving spring/summer foods or are you still going strong with wintery meals? Had any great eats lately?