Happy Wednesday! If you're new to the blog, on Wednesday's I join in on the WIAW fun and share some of the things I've been eating lately. WIAW is hosted by Jenn of Peas and Crayons.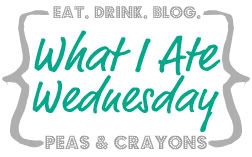 I'm off to teach PiYo for the fist time (eek!), so I'm keeping this short and sweet.
For breakfast, I've been adding in pumpkin pie smoothies and pumpkin chai smoothies. I froze pumpkin in our ice cube tray (I was super pumped this actually worked).
A few chunks of pumpkin, a few frozen banana slices, almond milk, chai latte mix (for the pumpkin chai), vanilla protein power, cinnamon, and nutmeg. Fabulous!
This weekend during our shopping adventures, John and I stopped by my favorite salad place and I got a ginormous spinach and kale salad with a million toppings. So good.
I didn't have to eat on campus as much this week, but when I did, I actually packed something: almonds, peas, and a PUMPKIN Clif bar.
That bar was seriously heavenly. I only bought one at the grocery store to try. I wish they sold them in bulk.
At home, I made Alexis's pumpkin pasta with gluten free noodles – amazing! If you haven't made this yet, I definitely recommend it.
John also made a few meals for us.
Spanish rice and beans (arroz con habichuelas)
And a peppers and onions dish with no name, along with baked plantains.
So many delicious fall eats! I love this season! Time for PiYo, cross your fingers for me that I won't forget the moves!!
Questions: What delicious fall recipes have you tried lately?